Get More for Your Money With Race Storage Shed Construction!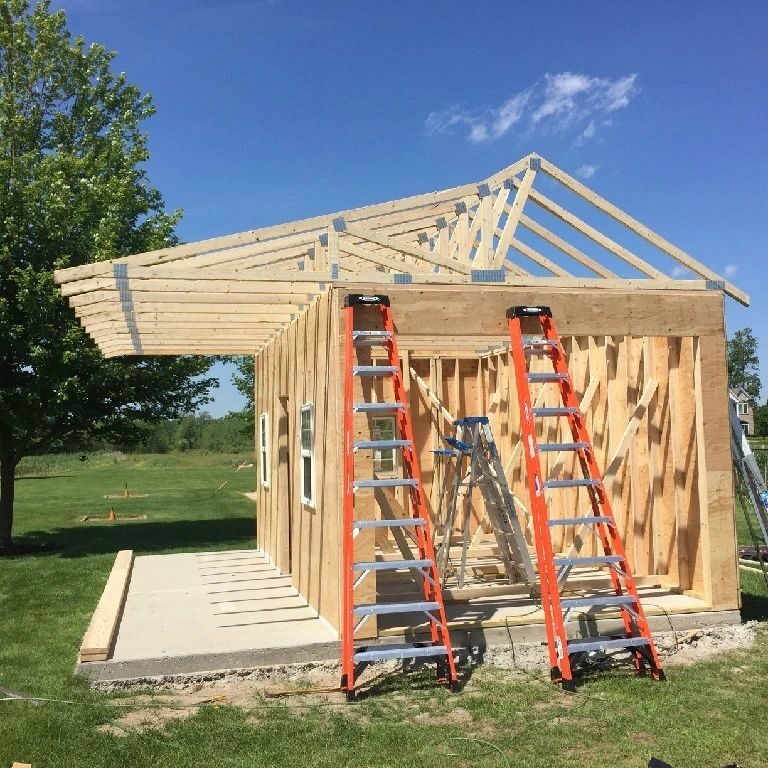 Every Shed Is Built On-Site at
No Extra Cost!
Most sheds were completed in one 8-hour-day by our local crew of expert craftsmen.
Building on-site enables us to install your new building in almost any situation without having to take down fences or remove tree branches. We usually only need a 3' opening to get into your yard.
All material is carried in by hand so there is minimal or no damage to your lawn.
Building on-site ultimately gives you a better-finished product because our crew members are able to make fine adjustments and custom cut material according to the grade of your lawn.
This also enables you to have a concrete pad base that is much stronger than the wood floor. Concrete keeps animals from living under the building and makes your new building last much longer.
We pride ourselves on supporting the local economy by buying and hiring local!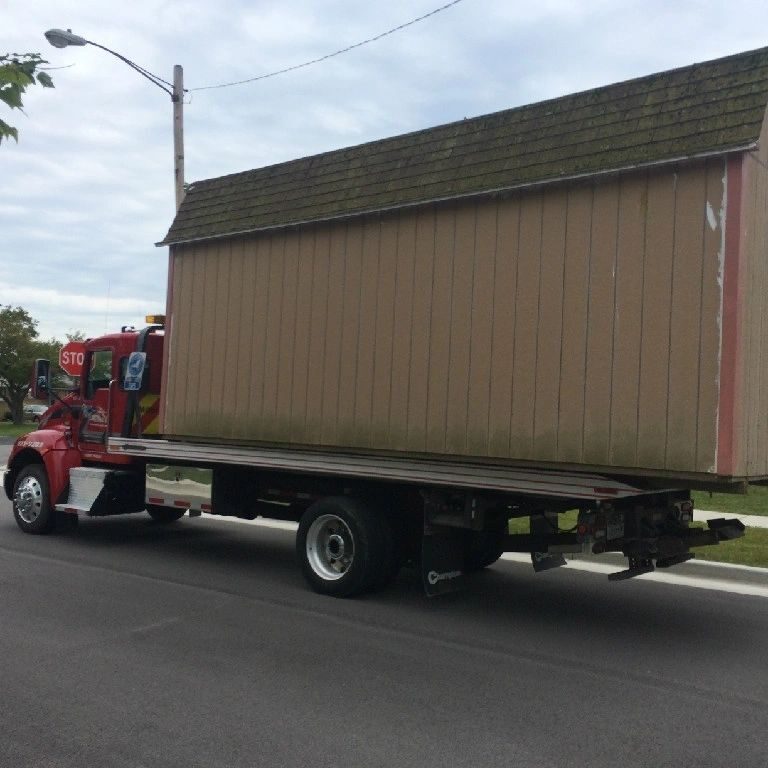 Many companies will want to charge you an additional cost to construct your building on-site. Sometimes up to 18% more!
This is because shed builders that mainly deliver sheds make money by building volume in a factory and shipping fully assembled to just drop in your yard.
The idea of transporting your shed long distances from the plant to your home adds a lot of unnecessary carbon to the environment. Most sheds that you see traveling down the thruway pulled by big diesel trucks are coming from as far as Pennsylvania. This doesn't create many local jobs or contribute to our WNY economy. Ask to see where the shed is being produced.
Delivering by truck is also difficult because fences must be cut and taken apart in order to get the shed into your property.
Tree branches, landscaping, or sprinkler heads might have to be moved/removed to create a big enough opening to safely deliver.
The weight of the truck or shed moving mule can also cause ruts in your yard that must be repaired by the homeowner.
It is also difficult to properly shim the middle of the floor because you can not get under the building when the shed is already built and can cause the shed to sag in the middle over time when not properly supported.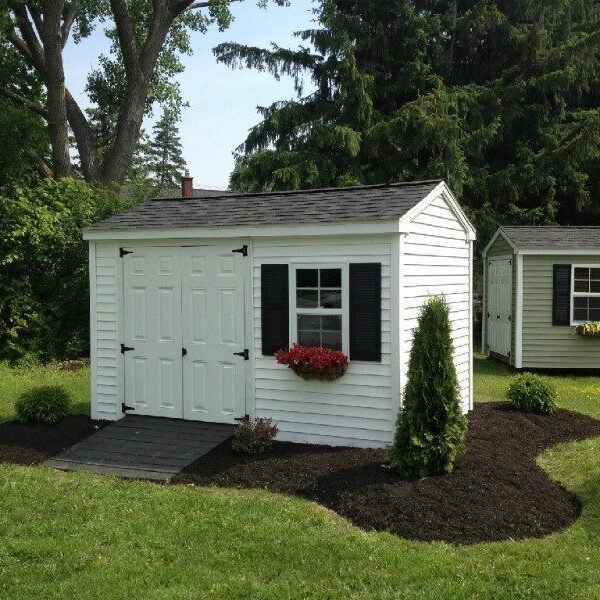 Pella window, shutters, and flower box included with all sheds. This gorgeous, oversized, 24" x 36" Pella window gives our buildings a unique look.
The window is double pane and is the same quality used in new home construction.
Tilts in for easy cleaning
Pick louvered or raised panel 12" x 36" vinyl shutters
Vinyl flower box included with all purchases
Framing for windows includes king studs, jack studs, cripple studs, and a doubleheader.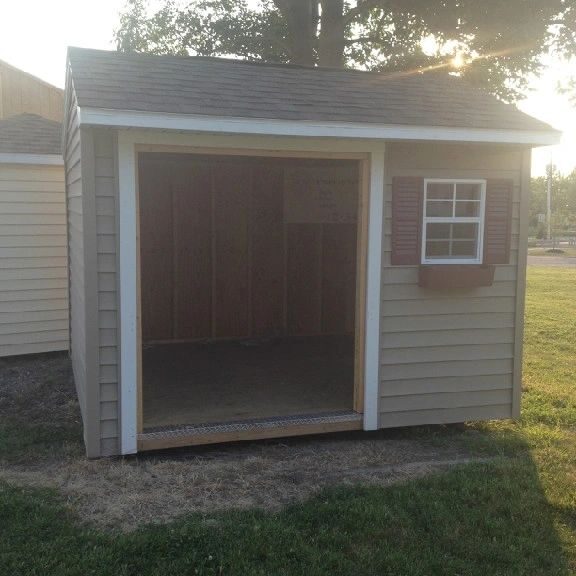 Many companies install the cheapest quality "shed" windows, shutters, and flower boxes you can buy.
These windows are smaller, single pane, and easily damaged.
Shutters are usually narrower and flower boxes can be made out of plastic rather than vinyl.
Most "shed' grade material is bought in special shed installer magazines that only sell cheaper lower grade products specifically for backyard sheds. You will see this with many companies in Western New York.
Many companies just put the window between two studs without any additional framing.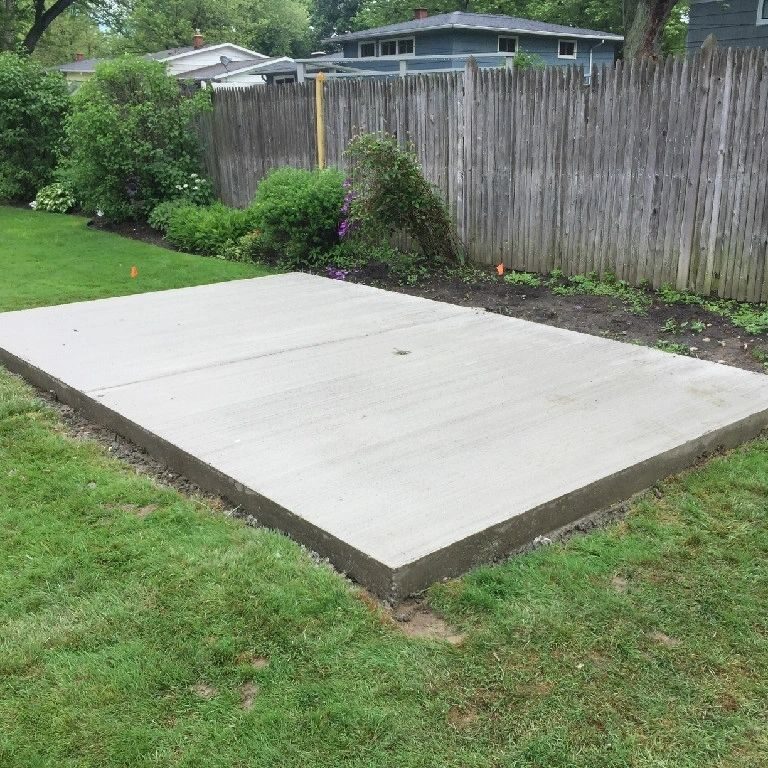 A concrete pad is the best possible base for your new building. It makes the structure stable and keeps animals from living underneath. We offer concrete pads as an option.
Using 4500 psi. concrete, buckeye fiber, and wire mesh, our pads will ensure your building will last as long as your home! Because we pour all our own concrete work, you don't have to worry about hiring an additional contractor. We personally install every pad and do not use any subcontractors.
Race Storage Sheds builds every shed on-site. This means if we pour your pad, we will bolt the walls directly to the concrete. This is how your garage is built. This ultimately creates a very stable structure and protects the building from lifting, due to high winds.
Many shed companies don't offer concrete pads.
They will want to build your new building in a factory and ship it on a truck to your property because it is easier and more profitable to deliver it and set it on the grass.
Sheds with wood floors create a large area for animals such as skunks, groundhogs, rats, snakes, strays, mice, voles, etc... to easily live under.
You wouldn't want to build your garage on a wood floor so, why would you want to build a medium to large size shed without a concrete pad? Over time, the blocks underneath the flooring will sink into the grass and the shed can become unstable. This is especially the case with larger buildings. The building will have to be re-leveled every few years to bring it back to its safe and original position.
Moisture in the ground can also cause rotting of the wood floor overtime.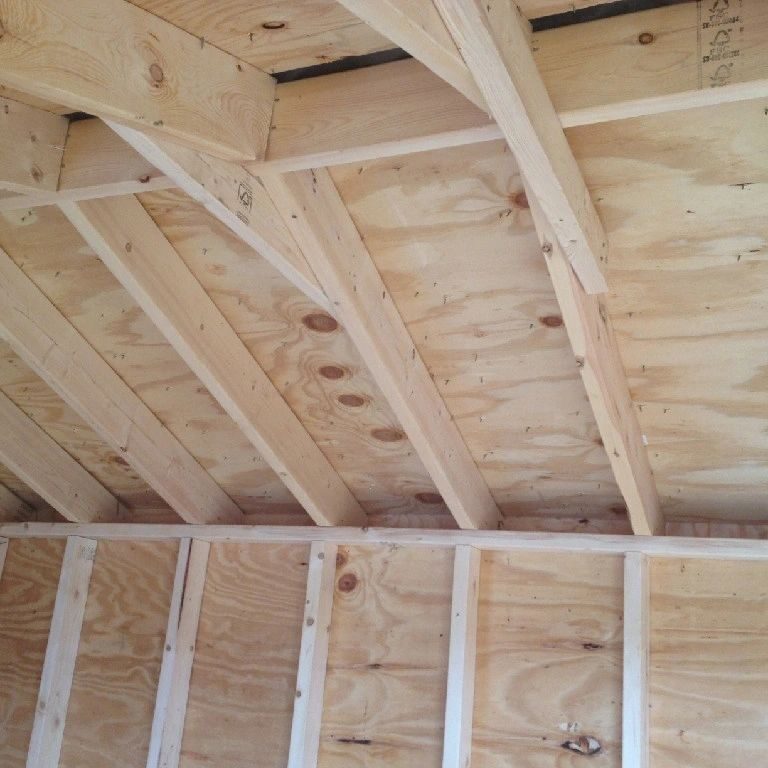 Every shed includes 2" x 6" rafters 16" on the center.
This is how your house is built.
Every rafter lines up over the wall stud and sits on a double top plate
We also use "bird's-mouth construction"
This means we cut a notch out of the end of every rafter. This locks in the exterior walls.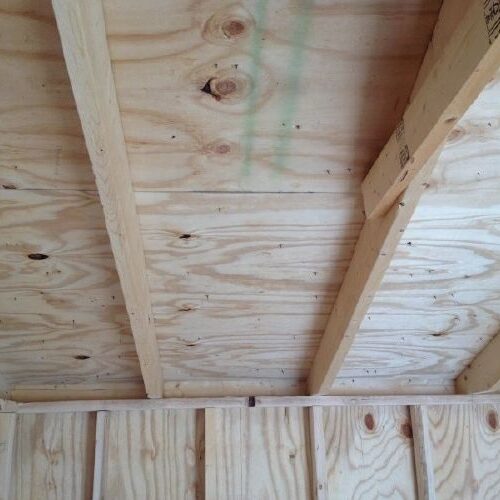 Most shed companies use 2" x 4" rafters spaced 24" on the center.
Notice the rafters do not line up over the wall studs.
Using only 2" x 4" rafters causes your roof to sag overtime.
Spacing the rafters 24" apart is weak and can cause sagging of the plywood over time especially in our harsh Buffalo winters.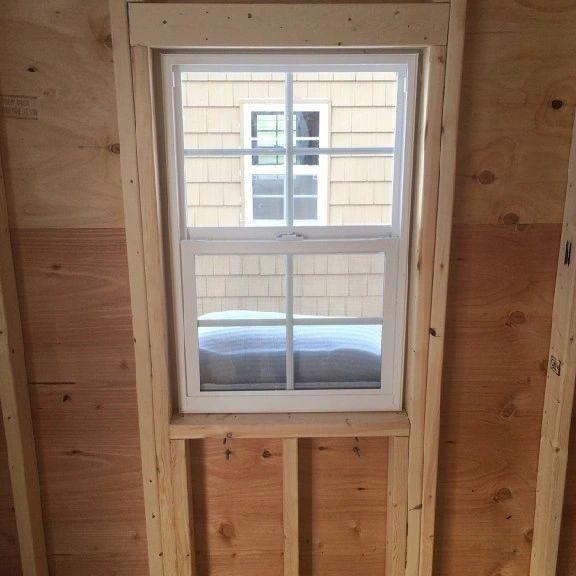 We frame your windows with king studs, jack studs, cripple studs, and a doubleheader.
This will ensure the weight of the roof is properly distributed.
If you were to look behind the drywall in your home, you would see the same type of framing.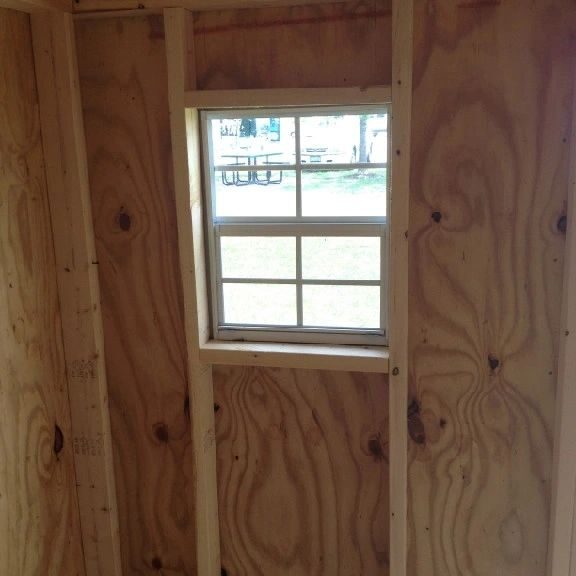 No king stud
No jack stud
No cripple studs
No doubleheader
Most companies just place the window between two studs without any extra support.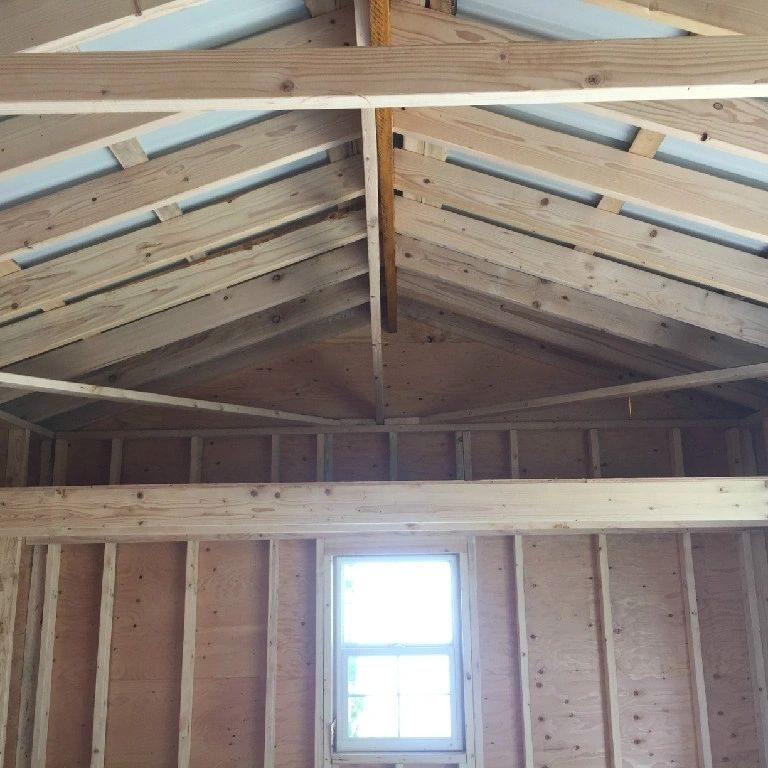 Our company was born in Orchard Park, NY so, we understand the amount of lake effect snow that can pile up on the roof. We also understand that when the snow begins to thaw, it gets heavy enough to possibly damage structures if they are not properly supported. Coming from a long line of framers, we take extra precautions to support the roof system.
Every purchase includes additional structural braces!
First, we run 2 braces from the top plates on either gable end up to our 2 x 10 ridge board. This keeps the ridge beam stiff and prevents sagging over time as you might see on some old garages or barns. It's called a sway brace.
Then, we run 4 more braces in each corner of the building to keep all the walls from moving and twisting overtime.
Lastly, we run 1 brace from the top plate of the front wall to the top plate of the back wall. This keeps the walls from spreading apart. These are called rafter ties.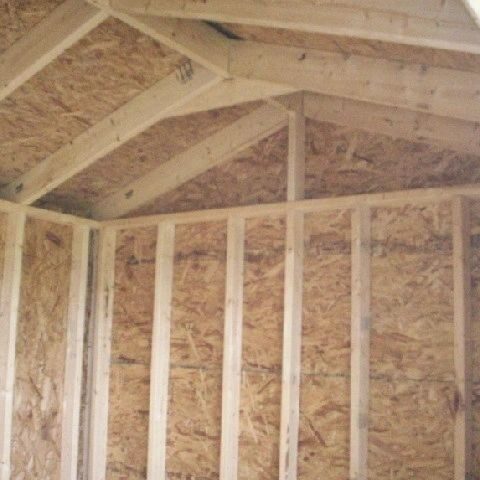 No gable braces
No ridge board brace
No brace from front to back wall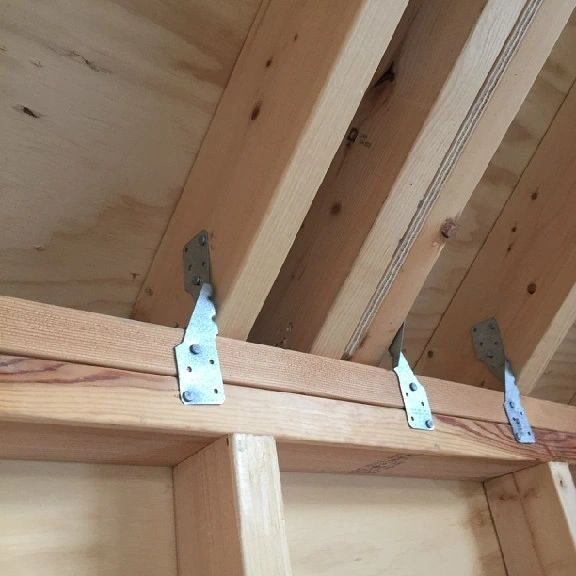 We believe the roof system is just as important as the base. We are now including hurricane ties to all our 2 x 6 rafters. This provides a positive connection between the rafter and wall structure. Hurricane ties are included with every purchase.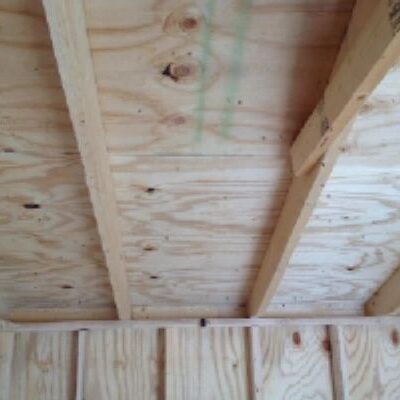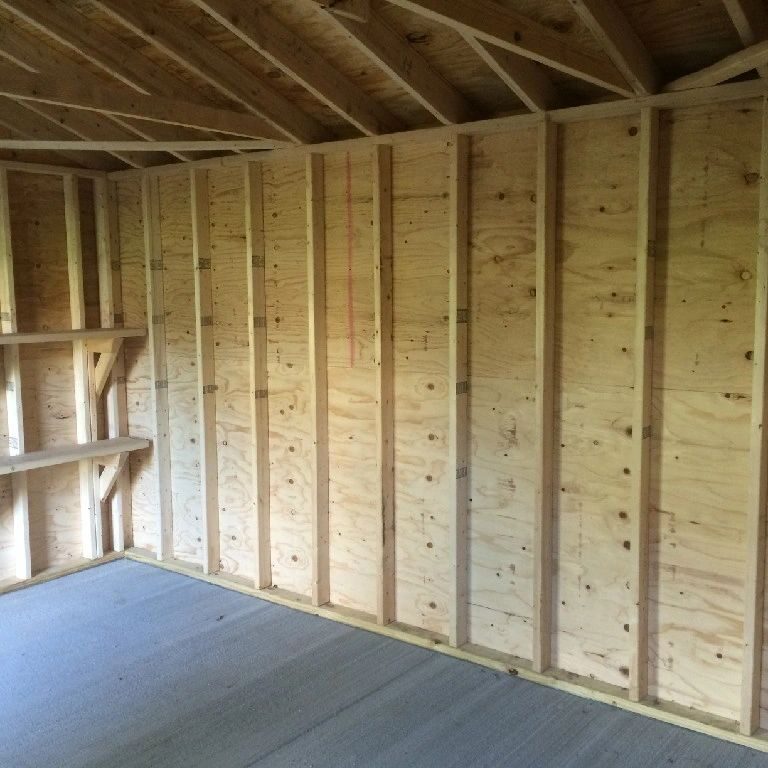 We only use plywood sheathing on walls and roof. 4 ply 1/2" thick on walls We use thick 5/8" plywood for the roof. Most new homes builders don't even use 5/8" plywood sheathing. Now your new shed will be stronger than your house! Plywood looks great and will extend the life of the building.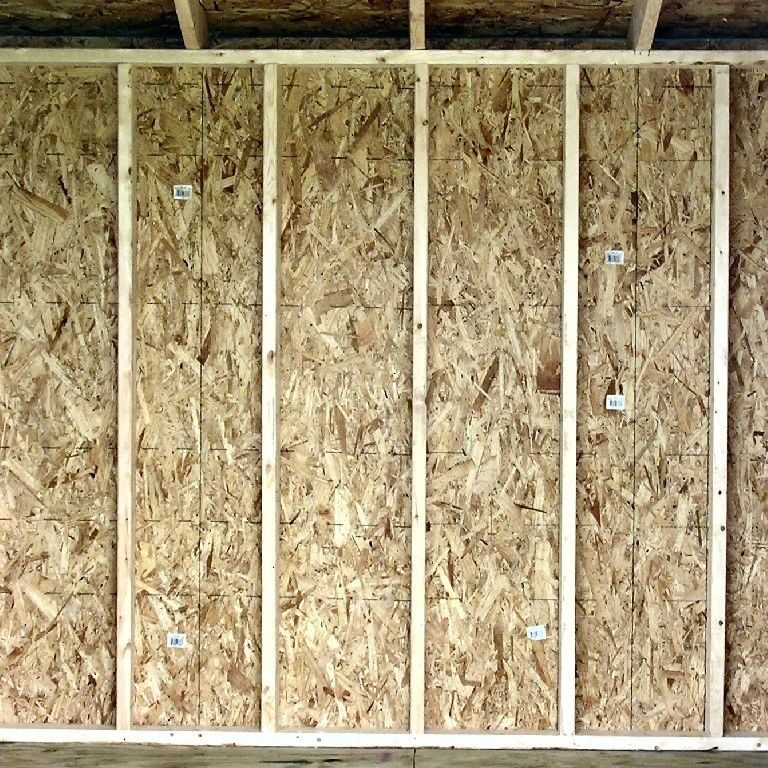 Caution
Make sure you are getting plywood with your building.
Flakeboard or OSB absorbs moisture especially along the bottom of the walls.
Overtime, it becomes weak and creates an easy way for critters to chew through the bottom.
Many companies only use 1/2" sheathing on the roof.
Every shed includes everything shown in the picture.
Notice on the inside of the wood door jam, we bend our aluminum metal to cover the entire 2" x 4" jam. This keeps wood from rotting overtime.
Weather stripping is placed in the door jam so when you shut the door it stops water from entering.
There is flexible weather stripping installed to the bottom of our fiberglass doors to prevent water and critters from entering underneath the doors.
Wood floor sheds include a polished diamond plate threshold. This protects the wood from being damaged when entering the shed with a lawn mower and also protects the wood from water.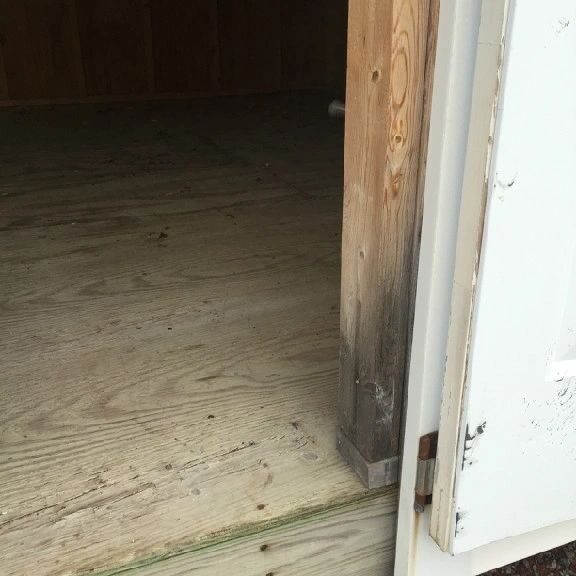 No aluminum in the door jam
No weather stripping in the door jam
No weather stripping on bottom of the door
No diamond plate
Metal door instead of fiberglass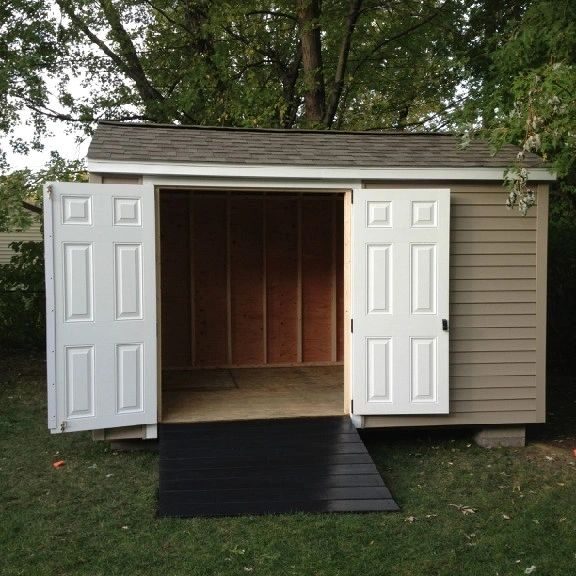 Our beautiful doors are made of high-quality fiberglass that won't rot or rust.
Fiberglass doors are resistant to dents and scratches.
Doors come with heavy-duty T-shaped hinges.
All buildings come with a lock and key.
Weather stripping on bottom of doors and in jam.
 Diamond plate threshold.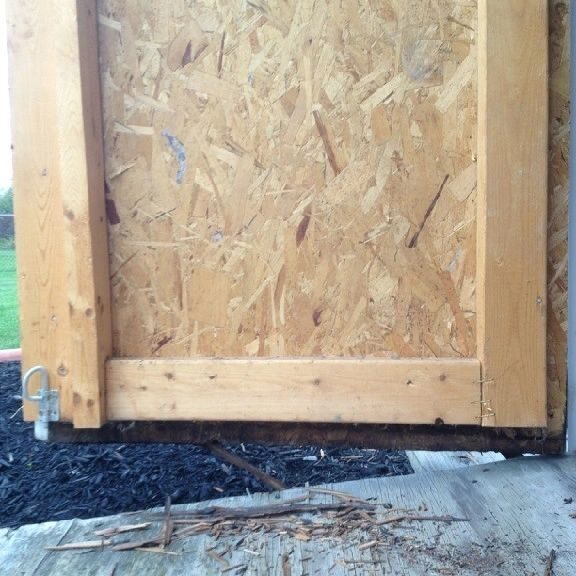 Any shed door made out of wood will eventually rot out at the bottom.
Some companies use wood that is soaked in chemicals that protect the wood for a few years before eventually, it begins to deteriorate. We have replaced many of these types of doors for people. Wood doors are a way of the past. These days fiberglass is the way to go to get the best lifespan out of a product. With our Buffalo winters, you need doors that will withstand extreme weather.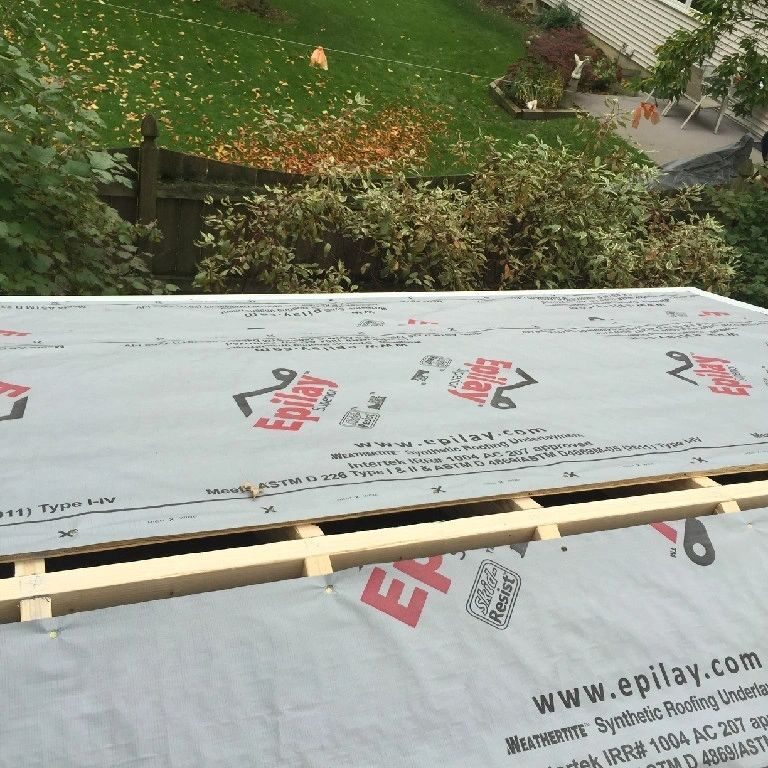 Every shingled roof has a synthetic underlayment underneath the shingles to protect the plywood.
Synthetic underlayment is designed to last longer and resists moisture more than felt paper.
It is also slip-resistant so it's safer for our crew members to work on.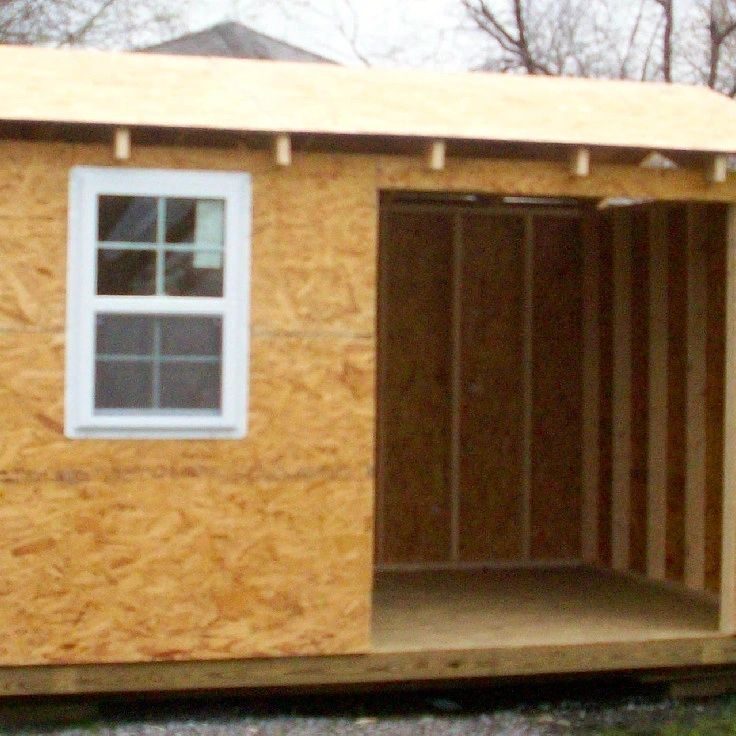 Most companies install your roofing shingles directly over the flakeboard or plywood and want to charge extra for underlayment. Felt paper is typically used instead of synthetic underlayment.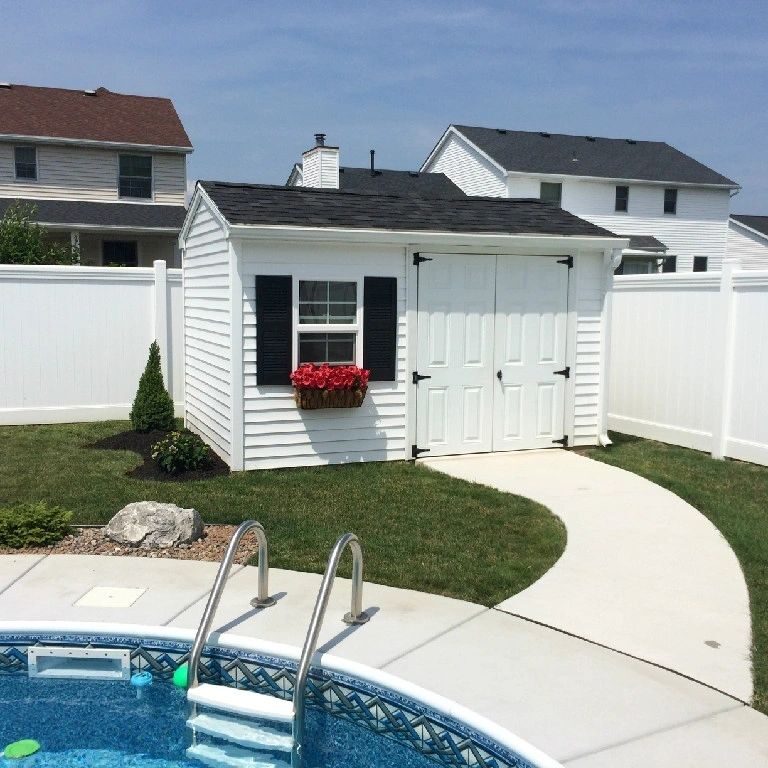 Our sheds are built to be maintenance-free with no exposed wood.
We include vinyl siding with every building because we believe that once it's built, you shouldn't have to work to keep it looking nice. We want each building to be maintenance-free.
We offer color choices and color schemes that custom homebuilders use.
Because they match your home and are built to last, a Race Storage Shed adds value to your property.
We also offer ultra-premium vinyl, shakes, and vinyl siding that looks like real stone.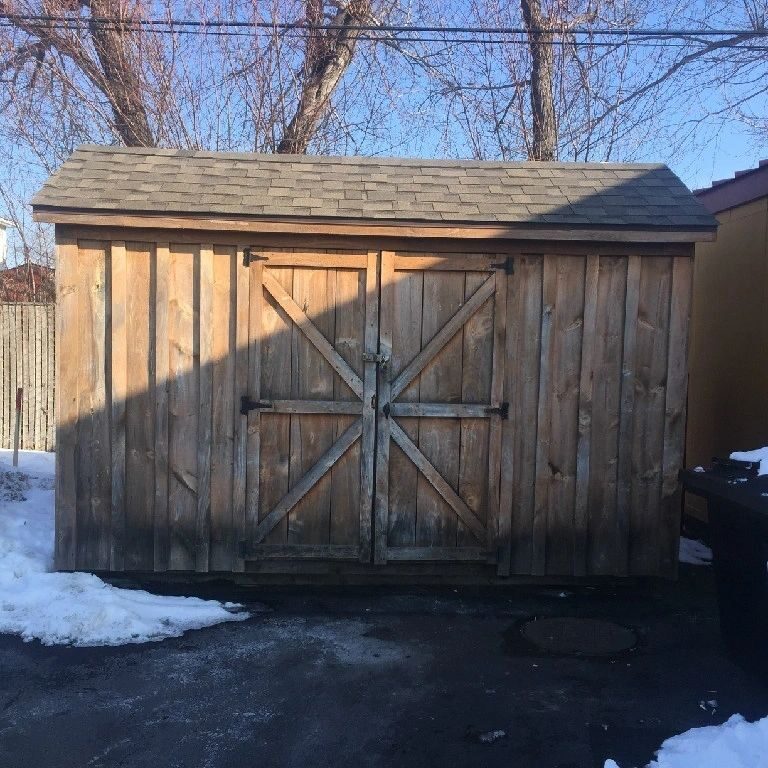 Some Amish sheds have wood exterior sheathing and wood doors that look nice for the first year, but gradually they absorb water and get a stained or dirty look over time because of mildew buildup.
There is a reason sheds that aren't protected with vinyl are cheaper in cost.
They require yearly staining or painting and do not include a 10-year warranty or in most cases no warranty.
They also don't add much real value to your property and could turn into an eyesore quickly if not properly maintained.
Compare the flooring — Some Amish buildings use pressure-treated 4 x 4 runners but the floorboards, side floorboards, and plywood flooring are not pressure-treated. Moisture from the ground eventually deteriorates the flooring overtime.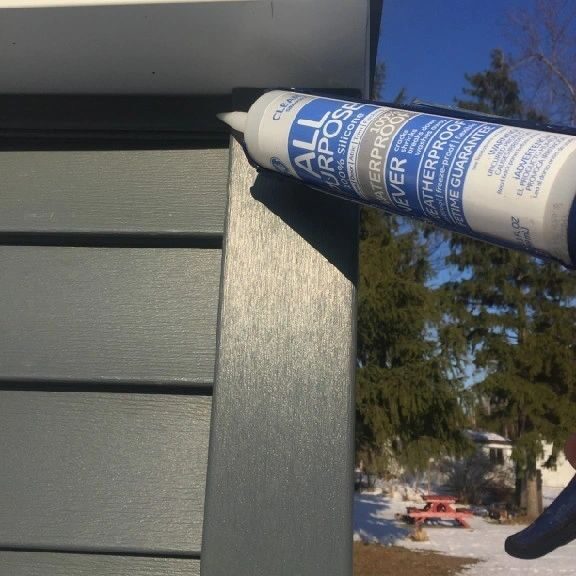 One of our main goals is to keep critters out of your shed.
We don't want you to have fear of being stung or mice at your feet.
Every building includes critter proofing.
(See critter proofing tab)
We use silicone caulk on the interior and exterior of the building to seal as many seams as possible.
Weather stripping is used below and behind the doors to defend against mice, bees, and ants.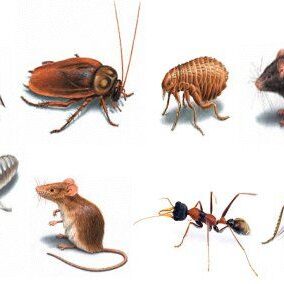 When comparing sheds, look to make sure everything is being sealed properly.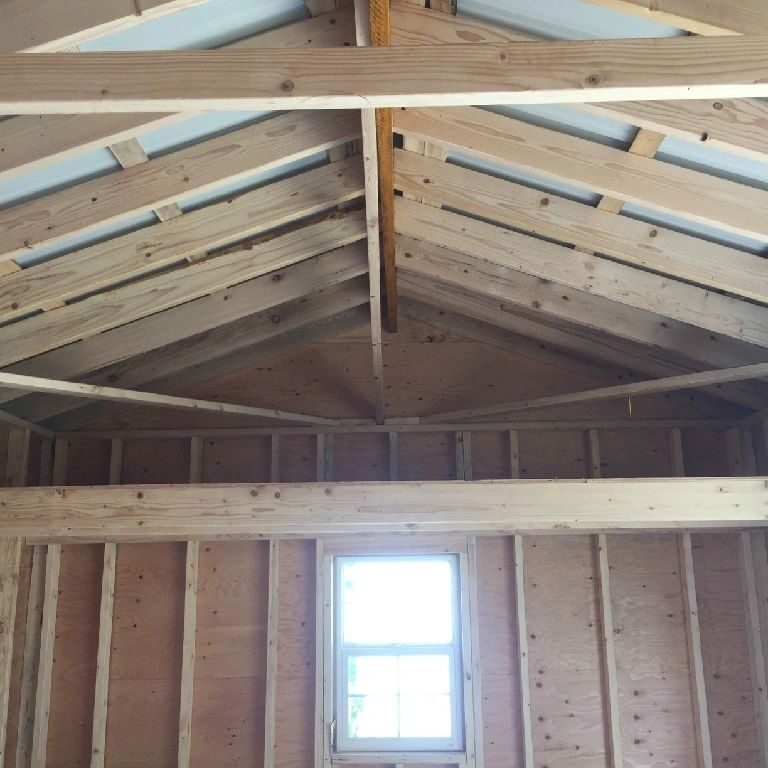 Look at all those studs!
We believe in framing your building like a miniature garage. 2" x 6" rafters are spaced 16" on center with hurricane ties to connect the rafters to the top plate of the wall. Wall studs are 2" x 4" studs spaced 16" on center. Rafters line up directly over the wall studs to properly distribute the weight.
We use 1/2" plywood on the walls, 5/8" plywood on the roof, and 3/4" pressure-treated plywood on the floor. Windows and doors are framed with king studs, jack studs, cripple studs, and a doubleheader. Seven additional braces are now added to the roof system to prevent any damage due to the snow load. 
10-year warranty when you choose a concrete pad and metal roof or a
5-year warranty when you choose a wood floor and metal/shingle roof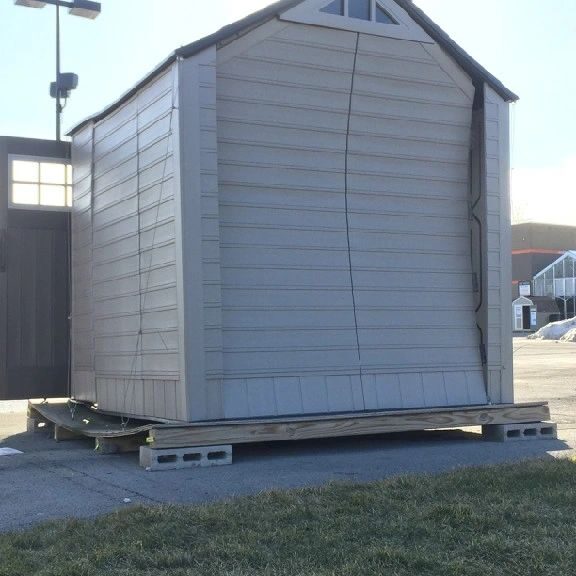 Depending on weather conditions and the natural movement of the earth, plastic sheds can be easily damaged or destroyed. We have replaced many plastic sheds over the years that have been destroyed because of the weight of snow on the roof, wind, or tree limbs falling on them.
This is a Home Depot display that has never been used. The side walls have shifted and the back wall collapsed. 
Our company was born in Orchard Park, NY. We have always believed in buying building products locally and we try to pick vendors that are predominantly small businesses. At one time, we were a very small company and every customer that first bought a shed through us made a huge impact. We grew because of the communities' belief in us! Now that we are Western New York's premier shed builder, we want to give back to the community by choosing to buy locally!

We are not an "Amish company" so we are constantly hiring the local workforce. We hire your sons and daughters and provide them a competitive wage and knowledge they will carry with them the rest of their lives. Our team has become very close and will go the extra mile to give the customer a feeling of pride when their building is complete.

Thank you from the bottom of our hearts, Western New York, for believing in our vision! We can not wait to see what the future will hold.   


Many sheds sold here in Western New York are actually made in Pennsylvania by Amish communities. This business of "shed shipping" ultimately results in a cheaper built product, less money being invested into our local community, and less jobs in our area.  

Trucking them into Western New York creates many more carbon emissions compared to a local builder.